Cherry Pops!
Nov 13, 2020 • Cherry Iocovozzi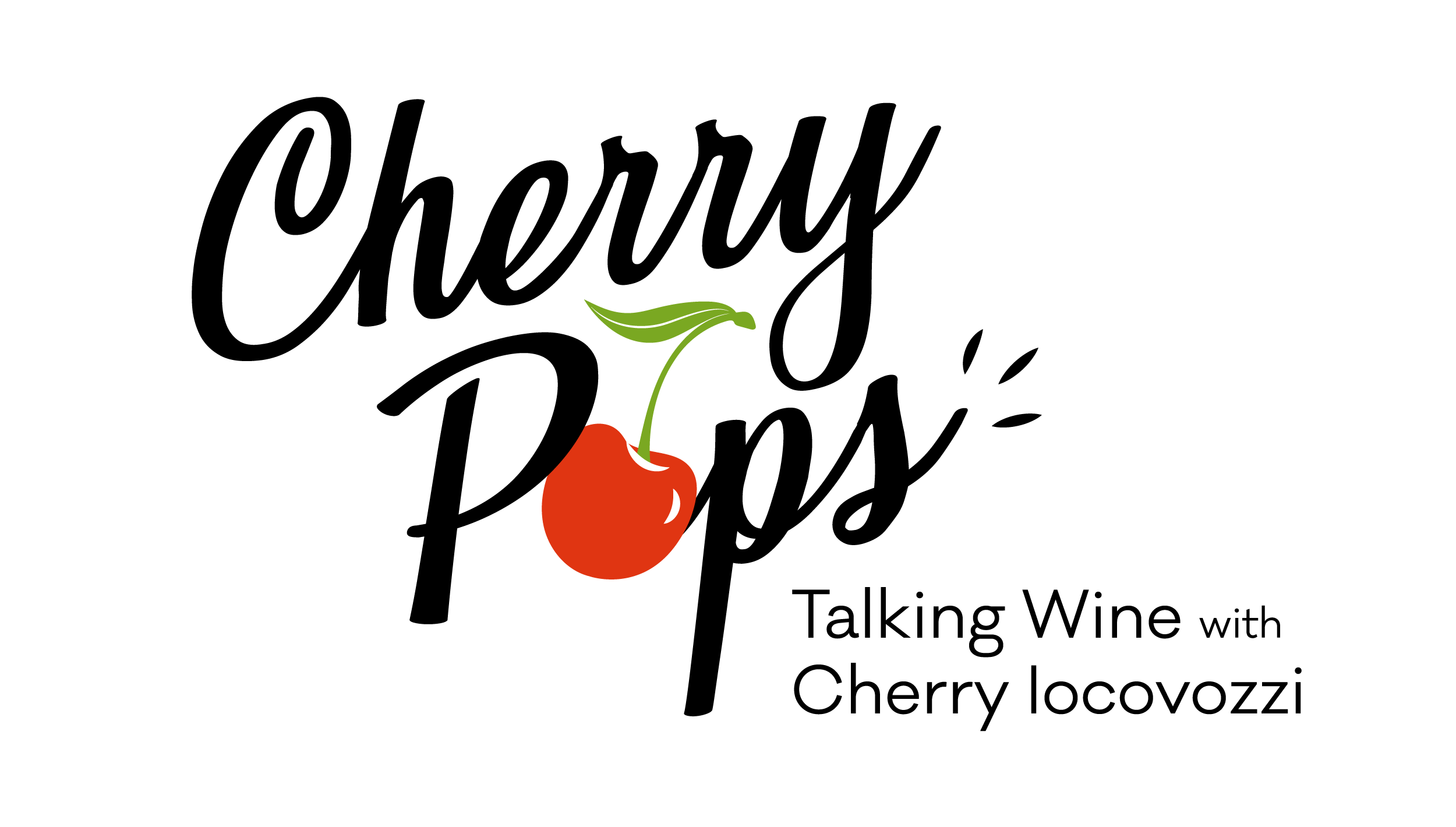 ---
Cherry Pops is a time to taste wine, sake, seltzer—you name it!—with Cherry and friends in the East Fork-verse.

Cherry Pops is a time to taste wine, with Cherry and lots of others in the East Fork-verse, and learn about low intervention wine processes, regions, varietals, fermentation methods, people making and growing wine and anything else!

---
with Ryan Fortwendel and Taryn Tavella
---
Cherry mixes up some sparkling tea-based drinks, including some great non-alcoholic versions, with Ryan Fortwendel and Taryn Tavella from Minna, and attempts to choose a favorite from among their four delicious flavors. Good luck with that, Cherry!
---
---
with Erin Hawley and Sari Bellmer
---
In this episode, Cherry builds a sopping wet martini with East Fork brand director Erin Hawley then goes behind the scenes of making our martini bitters with Sari Bellmer of Heilbron Herbs.
---
---
---
Need some sexy italian wine to pair with all the italian food y'all have been cooking this month!? Tune in as we talk cow manure, biodynamic farming and 80 year old women still farming and making delicious ass wine!
---
---
---
Our cheeks hurt!!! Watch Cherry rapid fire question the most charming and genuine bartender on Zoom, Tiffanie Barriere @thedrinkingcoach - we talk about pit bulls, gin cocktails, and how to make it make sense!
---
---
---
This week, Cherry is joined by John deBary, author of Drink What You Want, making an absinthe cocktail—in custome!
---
---
---
This week, Cherry is joined by Alyssa DiPasquale, sake pro and founder of the Koji Club–a virtual sake bar pop-up—for a deep dive into this fermented rice spirit.
Tentaka Hawk of the Heavens (Junmai)

Dassai 50 (Junmai Daiginjo)

Fukucho Moon on the Water (Junmai Ginjo)
---
---
with Chris Bower of Eda Rhyne
---
Cherry Pops! with Chris Bower of Eda Rhyne, a regional Amari producer based here in Asheville. Cherry and Chris pop a few bottles of Amari and talk tasting notes, Appalachian folklore, and the secret formula of Coca-Cola. Amari are a category of bittersweet liqueurs—Amaro literally translates to "bitter" in Italian. Rooted in folk medicine, Amari are regional expressions of the local terroir and are made using botanicals and medicinal plants to produce a distinctly bitter and complex spirit. They're great for slowly sipping after dinner or mixing into a cocktail. Tune in as Chris and Cherry explore a few different iterations of this spirit.
Here's what Cherry and Chris tasted:
Zucca Rabarbaro

Eda Rhyne Amaro Oscura

Eda Rhyne Appalachian Fernet

Amaro 18 Isolabella

Elisir Novasalus
---
---
Blind Tastings with our CEO
---
A very special episode of Cherry Pops featuring our CEO and spiked seltzer dabbler Alex Matisse to join Cherry in tasting and rating 5 popular spiked seltzer brands. Opinions are mixed.
1. Corona Seltzer Lime
2. Truly with a hint of pineapple
3. Grapefruit White Claw
4. Natty Ice "House Rules: When Strawberry & Kiwi Call The Shots"
5. Grapefruit Sound Craft Seltzer
---
---
---
Petillant Naturel or Method Ancestral is the oldest known way of making sparkling wine. Winemakers press the juice and let it begin to ferment with naturally occurring yeasts in the cellar. They bottle it while it is still in a fermentation process so that process continues in the bottle. This can make Pet-Nats slightly more volatile and wild in profile but it can also produce very tight clean wines as well! In Champagne Method or Method Traditionelle, wine makers ferment the juice of grapes once, then add a dosage - an addition of sugar, grape juice or a combination of both, and let the wine ferment a second time in bottle. This process can take a bit longer that the pet-nat method, but often produces more refined tasting wines.
---
Meinklang 'Prosa' Frizzante Rose 2019
Osterriech, Austria
80% Pinot Nior

10% Blaufrankisch

10% Rotberger
Made by Angela & Werner Michlits, originally for their nuptuals! This wine is made in the Charmat method, which is similar to champagne in that it goes through two processes of fermentation, however in this case, both fermentations happen in large steel tanks before bottling. The Michlits family are stewards of a biodiverse farm in Osterrich, Austria where they grow fruit, vegetables, and wheat, and raise cattle - hence the cow on the wine's label.
For me, this wine is super lively and ripe, perfect for a sunny afternoon by a river. Deep fresh strawberry notes balanced with some bright acidity. Big mellow bubbles roll onto the tongue with ease.
Sebastian Brunet 'Le Natural' Pettient Natural
Vouvray, Loire, France
Sebastian Brunet comes from 4 generations of wine growers in the Loire region. Brunet inherited his father's wine making practice after his passing and continues to practice organic farming, wild fermentation and low to no sulphur additions. This wine is made in the Pet-Nat method, it begins fermentation in stainless steel tanks and is bottled a few months after pressing, it gets released onto the market within the next year so it is a fairly young wine.
On the palate this wine is savory, rich, and herbaceous. I get notes of toasted almond, lemon pith, and a certain gameyness that lends itself to sitting back and enjoying at the end of the evening.
---
---
---
For Rosé Week, I tasted two wines with a fabulous guest Bianca Sanon, a somm based in Miami and a genuinely incredible person. Bianca and I met last summer while she was shopping Crocodile Wine and we immediately bonded over our love of Conestabile de la Staffa and wines aged in amphora. Since then, she has been an incredible friend and industry accomplice (last week we were scream-laughing about why no one told had us rotberger and zweigelt are the same grape...you had to be there.)
---
Weingut Pittnauer Rose 2019
Burgenland, Austria
80% Blaufränkisch

10% Rotberger

10% St. Laurent
Gerhard Pittnauer inherited his father's vineyard at the age of 18, slowly growing his practice to oversee 15 hectares of biodynamically farmed grapes, half of which he uses to make his wines and half which he rents to other winemakers in the region. He and his wife Brigitte wait for the perfect level of ripeness before picking their fruit and pressing it for fermentation. The Konig rose is a blend of Blaufrankisch, Rotberger, and St. Laurent, picked during different times of harvest, making it fresh, juicy, and perfectly ripe.
Dolores Cabrara Fernandez 'La Araucaria'
Canary Islands, Spain
Dolores Cabrera Fernandez is a farmer and viticulturist in the Valle de la Orotava of the Canary Islands. She named her label, La Araucaria, after an evergreen tree that grows along-side the grapes she tends to in the cordon trenzado (braided cord) method. The soil in the canary islands is known for being rich and fertile because it is mostly volcanic ash mixed with clay. This wine is a co-ferment of Listan Negro for two vineyards she oversees, with 12 hours of skin maceration and aging in stainless steel tanks.
---
---
---