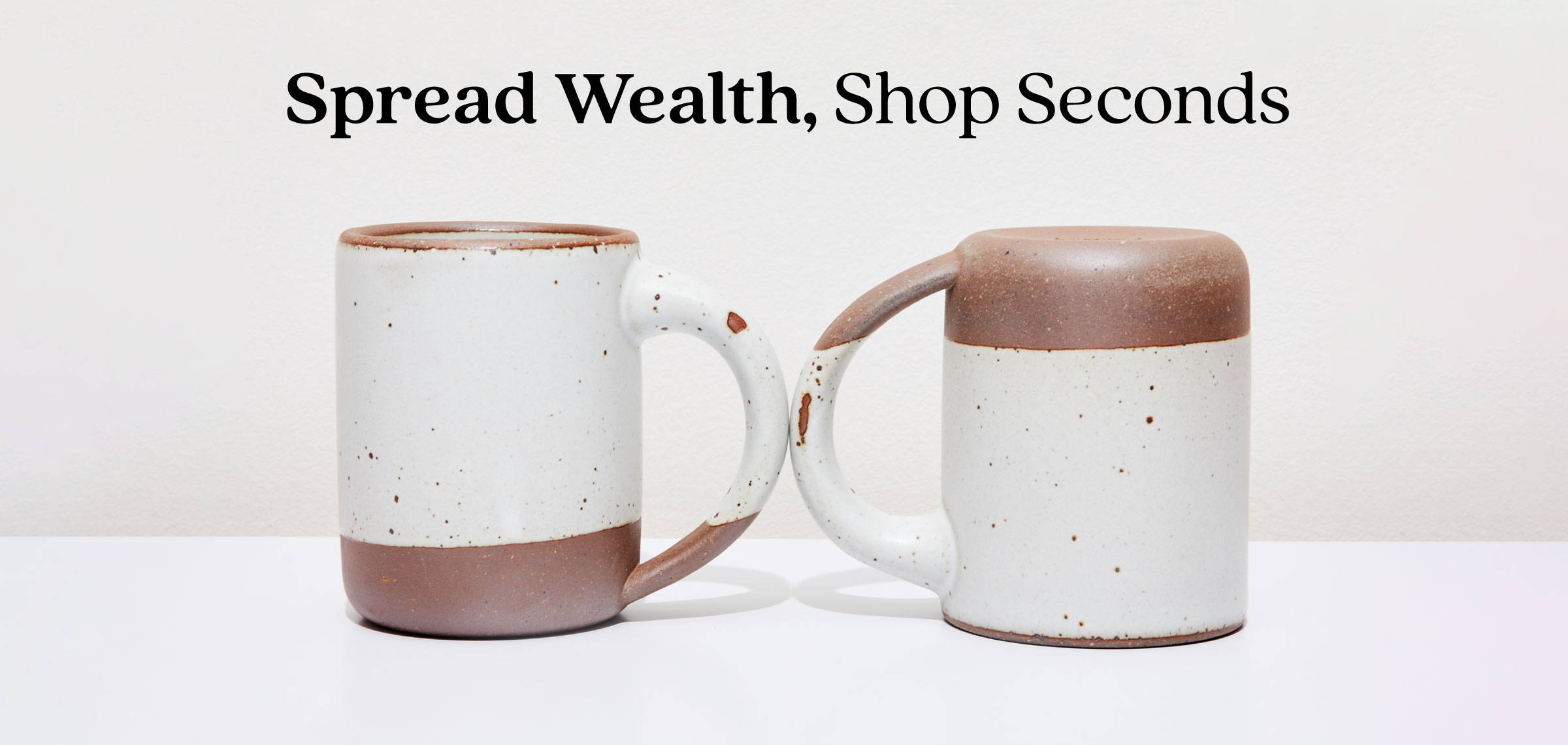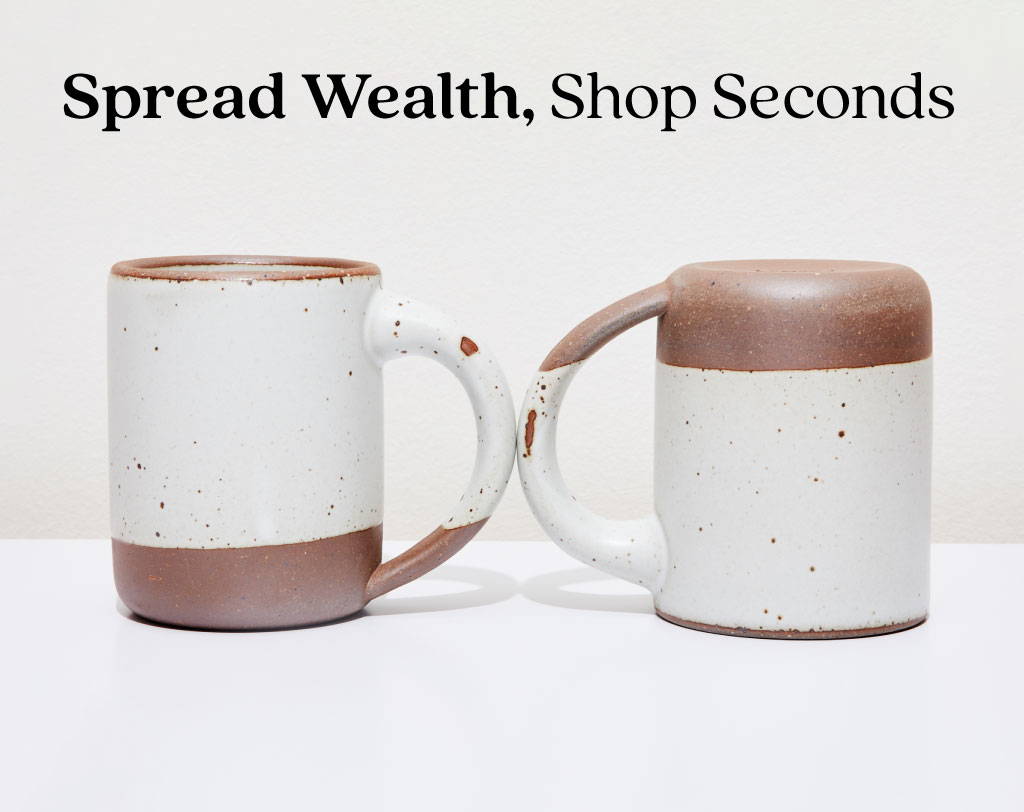 About 20% of the pots that we make don't pass our standards for a pot that can be sold at full retail. You can read all about these imperfect pots—or "Seconds" as they're called here. For the past several years we sold Seconds at in-person sales once or twice a year, and during an annual, online blowout that put considerable strain and stress on our fulfillment and care teams and created an unpleasant customer experience for the many who didn't end up getting to take home pots.
Since last fall, we've added inventory to our seconds collection that you can shop at 20% off retail. We periodically introduce a non-profit, grassroots organization or individual in our Western North Carolina community working toward racial equity, community reconciliation, and supporting the liberation of folks who've been systematically oppressed by white supremacy, patriarchy, and heteronormativity. Since we began this project in October 2020, we and the organizations we've partnered with have been pleased with the response, and judging from the Seconds we've sold, our customers are, too. So it's working! We ask you to learn about the work they do and point you to where to donate to sustain that work. Donate any dollar amount, submit your screenshot (we'll show you how down below) and you'll get a password to shop the Seconds Collection.
In October, November and December, we're asking you to give to...
Delores devoted herself full-time to making pottery in 2013. At 22, she got serious, spending long hours in the studio. (You can see some of her work here.) Her commitment and the honed skills that came with "living at Claymakers," the studio where she was working at the time, led to two formal internships, one with potters Alan Bennett and later with Eric Serritella, which she said "was focused more on intention." Delores explained, "Eric's trompe l'oeil sculptures are collections of thousands, if not millions of intentional strokes to create such a life-like piece. I was able to learn what it takes to sell my work but also what it takes to continuously sow a piece of my creativity, a piece of myself, into each of my works. I learned that my work, in the end, is not for or about me. It is a gift to the community."
It is with that idea that Delores came to become a teacher herself several years later. When she's not making her own pottery, she's working with students, helping them hone their craft. In particular, she works with students of color. She said, "I am an Black Woman sharing and practicing a craft where most of my students are white and my peers are predominantly white males. My childhood trauma and life experiences with being the other has left its marks. And like the wood fired pot, I believe it makes me all the better for it. Being Black has provided me with a different lens in which to view the world."
For the past four years, Delores has been renting space at a non-profit arts center called Liberty Arts, which itself is a rental property that, as she notes is in a part of Durham where warehouses and large plots of land have been selling very quickly and high prices. Knowing there is no guarantee that the space is still be available when the lease is due for renewal, Delores has been dreaming of what she might be able to accomplish in a space of her own: one where she has all the room to make her own work, she can have more students and there would be room for their work, too. A place that is more permanent. A place that is conducive to working well all year long: where she and her students currently call their home studio lacks both heat and air conditioning. "My students are troopers," Delores said. She also dreams of being able to offer studio assistantships in which students will work in exchange for studio time and mentorship with Delores.
Your donation will help fund this dream. Over the next few months, East Fork will be sharing more of Delores's story and her vision for a new pottery studio in Durham.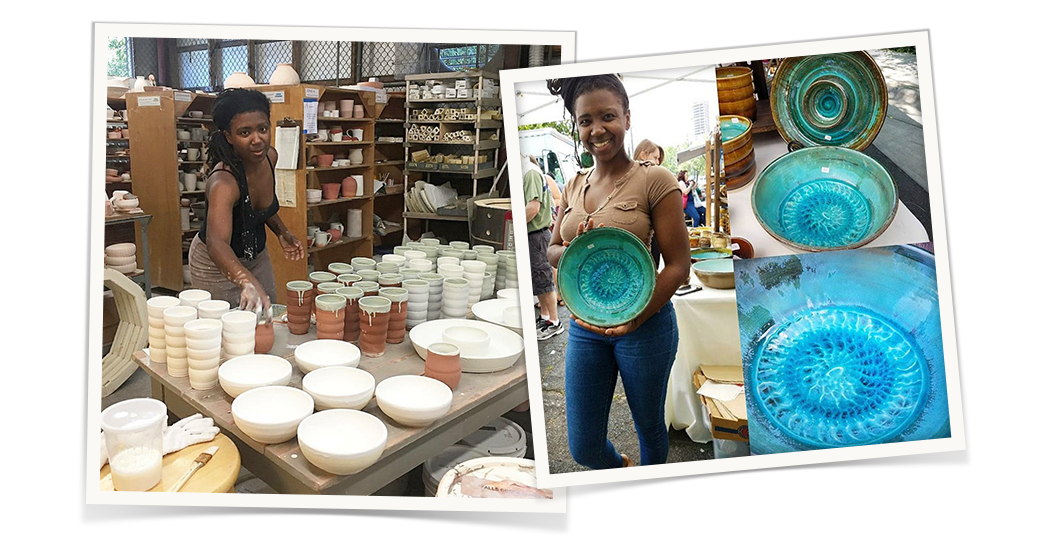 1. Donate any dollar amount to Delores Pottery now until January 1st, 2022.
2. Take a screenshot of your donation receipt or record
3. Send that screenshot to care@eastfork.com with "Delores" as the subject. If you do not put "Delores" as the subject line, you will not receive a response.
4. You'll receive a response from our Care team as soon as digitally possible* with the link and password to the seconds collection! That password will be good until January 1st, 2022. Please do not share your password with anyone!
5. If you have questions for our Care Team, please send a separate email at care@eastfork.com.
*It may take a moment to receive that email—sometimes 1 minute, sometimes 15 minutes (technology, am I right?). Please check your spam folder or resend the email if you get no response after that time.
Our seconds inventory provides a necessary source of revenue. We have to sell them, and we like that folks are able to purchase imperfect pots for a little less money. We've been thinking long and hard on how to get seconds out the door in a way that's less chaotic. And while there's no "perfect" solution, we've landed on something that works for now that also potentially serves as a little learning/teaching moment and helps habitualize personal wealth spreading practices. We and the organization we have partnered in October are so pleased with the response so far, and judging from the Seconds we've sold, our customers are, too.
In case you are wondering why we don't just do all of this on our own, earmarking funds for the organization, our values manager Clarissa Harris said it best: "We want folk to engage with where the funds are going and understand why the funds are going there. Active engagement makes the process more sustainable and relational...It's a little thing, asking folk to wander off a path for a sec they may not have usually but our hope is that this little thing can lead to a bigger and more beautiful relationship. We are looking for the place where this becomes less about transactional charity for discounted pots and more about the possibility of good work to be done. Hey, it could happen."

What is wealth redistribution?

Wealth redistribution is the movement of money, property and social clout or access from one population of individuals to another through some sort of social-societal catalyst. That catalyst could be voluntary, like "charitable giving" and "philanthropy," or it could be mandated by the government in the form of state and federal redistribution programs like taxation, welfare, public services or land reform.
Why is wealth redistribution not the answer?

Most wealth has been acquired, grown, passed down, and hoarded within a framework of supremacy, by siphoning resources away from marginalized populations across the globe. Wealth redistribution keeps the power in the hands of the oppressors and oppressive systems. It asks that people and institutions who have access to stolen wealth and resources use their discretion to sympathetically and incrementally give access to that wealth to others who have less. In short—the oppressor chooses where and how funds are redistributed; often this redistribution still primarily benefits the oppressor. Regardless of good intentions, this process edifies the very supremacy it attempts to circumvent.
What is wealth reclamation? How is it different?

The concept of wealth reclamation acknowledges that the way wealth is distributed, hoarded and grows is dictated by an ethos of supremacy. And that white people, corporations, and nations functioning in a supremacy culture have stolen wealth from Brown and Black people. Wealth reclamation acknowledges that something that has been stolen cannot simply be redistributed without reconciliation. Reclamation is defined by the Wealth Reclamation Academy of Practitioners as "the equitable and just distribution of resources." This process relies on "resource mobilizers" use of Black feminist values, radical inclusivity and intersectionality, working in tandem with marginalized communities to steward the rechanneling of "the flow of social and material wealth back into social justice movement and community building."
How can we participate in wealth reclamation?  

If we really, truly want to make our world more equitable we must be willing to "move up off of stuff"—as Clarissa's mom used to say—in order to make space for folk who have historically been excluded and kept from building and living the life that feels best to them. Somewhere in these active processes of "moving up off of," we allow space for what is just.
To be clear—stand-alone actions like us asking our audience to donate money in exchange for something is not reparations, and let me tell you why: According to the Movement for Black Lives (M4BL) Reparations Now Toolkit, in order for the process of reparations to be justly and thoroughly completed, five conditions must be present:
Cessation, assurances, and guarantees of non-repetition

Reinstitution and repatriation

Compensation

Satisfaction

Rehabilitation
Without all of these conditions, an action does not meet the qualifiers to be considered an act of reparations. Those who embark on this process need to know it will be lengthy, that they will need to remain communicative and mindful, and avoid working in silos. Participating in wealth reclamation in the way we're suggesting here only meets the criteria of compensation. That's not "wrong" or "bad"— it's just not the whole deal. But this first step can get us to thinking:
What would it look like for us as a global society to push to see the complete processes of reparations fulfilled in our communities?
Exciting question, right?
Why do I have to donate? Why doesn't East Fork just donate?

"We want folk to engage with where the funds are going and understand why the funds are going there. Active engagement makes the process more sustainable and relational...It's a little thing, asking folk to wander off a path for a sec they may not have usually but our hope is that this little thing can lead to a bigger and more beautiful relationship. We are looking for the place where this becomes less about transactional charity for discounted pots and more about the possibility of good work to be done. Hey, it could happen."
— Clarissa Harris, Sr. Community Impact Manager